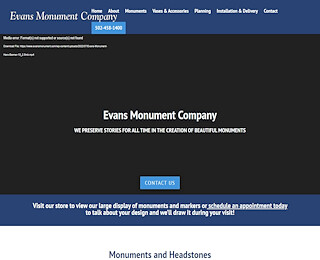 What are the Different Plans for Funeral Services in Louisville KY
Every funeral company has its own cremation service and funeral plans. A company's basic cremation may have similarities with the others but there are small details that set them apart. For instance, some companies include memorial visitation on their basic package while the others don't.
If you are looking for the best funeral services for your loved ones, it matters to compare each of the plans they offer. It helps if the website provides the included services for each plan as well as the price. This is to make it easier for clients to get services within their budget. Here at Evans Monument, we provide three main types of funeral services in Louisville KY. Get to know the differences between each service.
What is a Basic Cremation Plan?
A basic cremation is the most affordable plan you could get. It is a low-cost cremation service which includes body bathing, putting light cosmetics and shampooing of the deceased person. We partner with J.B. Ratterman & Sons Funeral Home to work on the professional care and welcome facilities for identification purposes.
Here at our company, we comply with the laws in Kentucky when it comes to doing cremation services. According to the law, the individual's remains have to be identified first before pursuing the cremation. It can be done by a family member, friend, coroner, and authorized agent.
Do note that an extra professional care will be required when the autopsy of the body is needed. It, therefore, requires an additional rate. The same is true for scheduling a memorial visitation. We suggest getting more than just a basic package if you want to dedicate time for the visitations.
Is There a Basic Cremation with Family Gatherings?
Yes, there is. However, the rate is slightly higher because it already comes with extra services. You will still get the same features of a basic cremation package but with add-ons. The added features include getting to use the traditional funeral parlor at J.B. Ratterman & Sons Funeral, a coverlet cremation container with a full pillow, as well as professional care for loved one's appearance.
For those who wish to have a two-hour daytime visitation at a funeral home or church, we can also offer a Church/Retirement Home Funeral Plan at a friendly rate. This already includes visitors register, memorial folders, acknowledgment cards, and crematory fee or casket coach to the cemetery.
Get in Touch With Us for Your Funeral Services in Louisville KY
Know more about the funeral plans and cremation services we offer by calling us at 502-458-1400 or by simply visiting our website. The details, including the prices, are already posted on our site. Evans Monument is a family-owned business aiming to provide pleasingly affordable prices to our clients.
Aside from funeral services, we are also professional designers and installers of cemetery monuments. We can work in all cemeteries, both public and private or of any religious denomination all throughout the United States. 
Funeral Services Louisville Ky
Evans Monuments & Family Cremation Care
5024581400
3204 Bardstown Rd, Louisville, KY 40205
View Larger Map